360 Youth Services
Naperville Chocolate Festival
January 19, 2013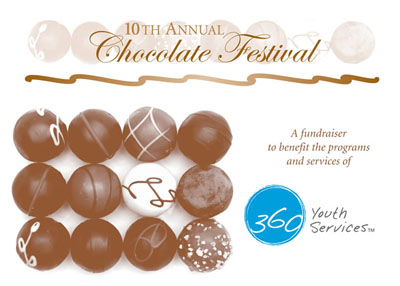 Mmmmm...I love chocolate!
If you do too then you must check out the Naperville Chocolate Festival!
360 Youth Services hosts this sweet get-together every year.
The event will include free samples, chocolate vendors, cooking demonstrations, and a fun "Sweet Treats" baking competition open to Naperville chefs and area residents.
360 Youth Services Chocolate Festival
Saturday, January 15, 2011
10:00am - 4:00pm
Neuqua Valley High School Freshman Center
3220 Cedar Glade Drive
Naperville, IL

$7 for Adults 18 & older
$3 for Seniors & Students 5–17 years old
Children under 5 years old are FREE!

Call Dawn Portner @ 630-961-2992, Ext 234 for more information.