Naperville Ribfest
If the idea of succulent pork dripping off the bone and the twang of barbecue sauce sets your senses aflame, then you won't want to miss the Naperville Ribfest, a three-day annual event in Naperville, Illinois (located just 40 minutes west of Chicago).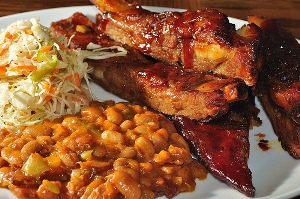 Photo by jeffreyw
What better way to celebrate the Independence Day weekend than with finger-lickin good sauce and live music?

Photo by Southie3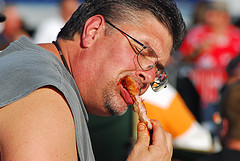 What is Ribfest?

Festival Magazine has voted the rib fest Naperville event as the "Best In The Midwest" for the past 15 years. Sixteen of the nation's best rib vendors assemble in a head-to-head competition to win the favor of esteemed judges and festival-goers alike.

The Food


This year's Naperville Ribfest vendors will include:

Porky N Beans
Desperado's BBQ & Ribs

Johnson's Colonel Barbecue

Texas Outlaws

Mojo's Ribshack

Uncle Bub's

Smokin Joe's Hog Wild Barbecue

Pigfoot BBQ

Armadillo Rib and Que Company

Howling Coyote Southwest BBQ

Robinsons

SGT. Oink's Pit BBQ

Porky N Bean's BBQ
Photo by Southie3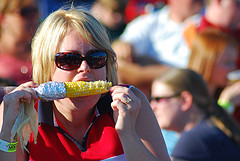 In addition to the yummy BBQ, you'll find all the standard carnival fare here - from kettle corn, corn on the cob and curly fries to funnel cakes, cotton candy and ice cream there are treats to please every taste-bud!

To quench your thirst, you can choose from soft drinks, beer, or wine.

Activities
Music is a big part of the family fun at the Naperville Rib Fest. This year you can catch famous musical artists Lynyrd Skynyrd, Styx and Rick Springfield, among others. You'll be able to mosey between two different stages of rock, progressive, blues, pop and country.

In the Family Area, your kids will enjoy a circus, jousting, mechanical bull riding, bounce houses, slides, a hands-on activity tent and a petting zoo.

Other special Rib Fest Naperville events TV and radio station promotions and a Chicago White Sox training camp. And let's not forget the grand finale fireworks, which are always a highlight!

How to Get Tickets
All tickets will be available only online or at the gate (no tickets will be available at Jewel-Osco this year). No refunds will be given. Children 11 and under are free every day with a paying adult.

Ticket prices:
Gate prices are $15
Online ticket prices are $12
To order online, please visit Naperville Ribfest Tickets.
Proceeds from ticket sales will go toward eliminating domestic violence and child abuse. For more information visit www.ribfest.net

Event Details
Ribfest 2013 will run from Wednesday, July 3 through Sunday, July 7.

Wednesday, July 3 - 4:00 to 10:00 p.m.
Thursday, July 4 - 12:00 noon to 10:00 p.m. ***
Friday, July 5 - 12:00 noon to 10:00 p.m.
Saturday, July 6 - 12:00 noon to 10:00 p.m.
Sunday, July 7 - 12:00 noon to 10:00 p.m.

***Fireworks on July 4 at 9:30pm. Gates are FREE after 7:30pm

LOCATION: Knoch Park, 724 S. West Street Naperville, IL. 60540