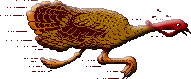 Naperville Turkey Trot 2013

Consume too many calories on Thanksgiving? Here's a fun way to justify eating that extra helping of stuffing or pie! Run!
The Naperville Turkey Trot is an annual 5K Run sponsored by The Naperville Noon Lions Club on Thanksgiving morning. Proceeds from the event benefit people right here in the area through various agencies.
Don't be a turkey! Reserve your spot at the trot:
Date: Thursday November 28, 2013
Time: 8:00 am
Place: Naperville Central High School
440 West Aurora Avenue, Naperville, IL.
For more information and to register for the race, check out:
Naperville Turkey Trot Website