Naperville Kids Halloween - Trick or Treat and Party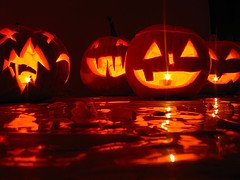 Naperville Kids Halloween - Here are some safe and fun activities for your little ones to celebrate October!
Saturday, October 24th

The Scare-illon Concert

Get into the Halloween spirit with some spooky music at Naperville's Millennium Carillon.  72 bells will set the mood featuring melodies from Harry Potter, Phantom of the Opera and other haunting selections.

The Élan Dance Company will perform special dances in costume to celebrate Halloween.

Concert-goers should bring lawn chairs or blankets. Check out the forecast before heading to the concert at: Naperville Weather.
A special treat will be provided by Naperville Park District. For more information, visit http://www.naperville-carillon.org.
Time: October 24th, 2015 - 7:00 p.m.-8:00 p.m.
Place: Naperville Carillon is located at the base of Rotary Hill at 443 W. Aurora Ave.
Fee: Free
---
Sunday, October 25th
---
Trick or Treat at Safety Town

Not even witches can brew up fun this good!  Kids of all ages can dress up in their costumes and join the annual Safety Town Trick or Treat, hosted by the Naperville Junior Woman's Club.
Time: October 25th, 2015 - 10:00 a.m.-1:00 p.m.
Place: Safety Town - 1320 Aurora Avenue Naperville, IL 60540
Fee: $1 and a non-perishable food item per child.  (Food donations benefit Loaves and Fishes)
Halloween Happening, hosted by the Naperville Park District.
Join this special Halloween Party held at the Naperville Riverwalk Grand Pavillion. Come enjoy games and goodies.
Time: October 25, 2015 from 1:00 p.m. to 4:00 p.m.
Place: Riverwalk Grand Pavilion, 912 Sindt Ct., Naperville (West of Centennial Beach)

Age: 10 & under
Fee: Free
More Information: Call 630-848-5000
---
Saturday, October 31st

Happy Halloween!!!
Naperville Trick or Treating Hours
The City of Naperville has no ordinance determining Halloween hours for children.  For more information and safety tips, please visit the City of Naperville website.

---
---
Looking for Halloween Fun for Teens & Adults? Take a look at our Naperville Halloween page for activities too scary for little ones!

Return to Home Page from Naperville Kids Halloween