Naperville Sledding Hills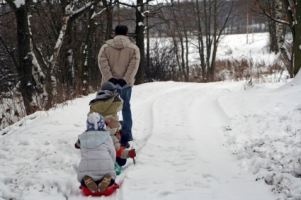 Are you looking for Naperville Sledding Hills? You've come to the right place! Our family loves to bundle up after a fresh snowfall and hit the hills.
There are many hills in neighborhood parks, and our favorite is the Naperville Riverwalk sled hill.
Sledding is a great way to get in some exercise and fresh air in the winter months!
I've put together a list of sledding hills that are maintained by the Naperville Park district.
Included is information on closing times and maps to each park.

• All Naperville sledding hills are open as long as there is 2" of snow and no grass visible.
• Please note that wooden sleds, metal-runner sleds, toboggans, skis, or snow-boards are NOT allowed on sled hills. The Naperville Park District offers one location exclusively for snowboarding: Weigand Riverfront Park located at 2436 S. Washington St. (No sleds are allowed on this hill - snowboards only).
Naperville Riverwalk Sled Hill
This is the same hill our kids roll down in the summertime! Rotary Hill is located north of Aurora Avenue and west of Eagle Street.
The Riverwalk Sled Hill is lighted...making it perfect for safe, night time sledding.
Open Sunday - Thursday until 9:00pm
Fridays and Saturdays until 10:00pm
The Riverwalk Café will open for sledding on Rotary Hill with varying hours, depending on sledding conditions. The menu will include hot coffee, tea and hot chocolate, soft drinks, and other yummy snacks.
*Weather and snow conditions permitting
Map and Directions to Riverwalk Sled Hill


---
Neighborhood Park Sledding Hills
The neighborhood park sled hills are not lighted and close at dusk:
Arrowhead Park
711 Iroquois Ave, Naperville, IL
Map and Directions to Arrowhead Park

Brooks Crossing Park
1015 95th Street, Naperville, IL
Map and Directions to Brooks Crossing Park
Gartner Park
546 West Gartner Road, Naperville, Illinois
Map and Directions to Gartner Park
May Watts Park
804 S. Whispering Hills Road, Naperville, IL
Map and Directions to May Watts Park

Springhill Park
703 Springhill Circle, Naperville, IL
Map and Directions to Springhill Park

Country Lakes Community Park
Genesee Dr. North of North Aurora Rd.
Map and Directions to Country Lakes Community Park
To Leave Naperville Sledding Hills, and Return to Home Page, Click Here