Regal Cantera 17
The Regal Cantera 17 is next door to Naperville - located in the town of Warrenville, Illinois right off of I-88 and Winfield Rd.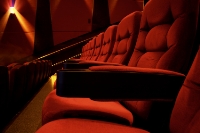 This is an all-around great location, because there are plenty of places nearby to grab a bite to eat after watching a movie.
Perfect for a "dinner and movie" date night! There is also ample parking, so you don't have to hunt for a parking spot.
There are
17 screens
…giving you more show times and options in case a movie is sold-out.
The cinema offers stadium style seating with plush, comfy seats and adjustable armrests.
Multiple concession stands, mean less waiting in line for your popcorn and refreshments.
Speaking of popcorn, you get to butter your own popcorn here!


Regal Value Days

Monday - Thursday tickets are only $5 all day, and $5 before noon Friday-Sunday. 3D upcharges apply.
(630) 836-8265 for more info!
Cinema Art
Regal Entertainment Group celebrates the spirit of independent film making. Regal Cantera Stadium showcases some of the best independent films from the around the world, including Bollywood movies with subtitles.
Regal Crown Club
Join the FREE Regal Crown Club program and earn rewards like free movies, popcorn and soft drinks. $2 popcorn every Tuesday with a paid admission and Regal Crown Club card. Apply for your card online:
Regal Crown Club
.

Ticket Prices
Adult $10.00
Senior $9.00
Child $7.00

---
Address and Contact Information
The movie theater is located at:
28250 Diehl Road
Warrenville, IL 60555
(630) 836-8265

***Many locals will remember the theater was originally called AMC Cantera 30. On June 26, 2010 ownership was transferred to Regal Entertainment Group. The Regal Cantera had 30 screens until April 2011, when one wing of the facility was closed, leaving 17 screens. That is the story of how the AMC Cantera 30 changed to the Regal Cantera Stadium 17.
---
To leave Regal Cantera 17, and return to Naperville Theaters, Click Here