Naperville Halloween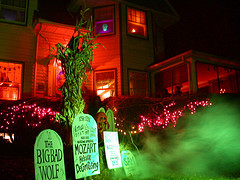 Are you looking for some fun this Halloween?  Check out some upcoming scary Naperville Halloween events around town!
Now until Saturday November 18th
Naperville Historic District Ghost Walk Tour

Halloween in Naperville is SCARY - go on a ghost hunt with a real EMF Ghost Meter on a one mile lantern-lit haunted walk of Naperville's beautiful Historic District. Tour starts at Quigley's Irish Pub in downtown Naperville. Voted "Best Attraction in Naperville" award 3 years running! Use of EMF meter is FREE!

Day: Thursdays
Time: 7:00p.m.
Day: Fridays/Saturdays
Time: 8:00p.m.
Price:
$15-$20

Place: Quigley's Irish Pub
43 E. Jefferson St.
Naperville, IL 60540

For more info: 1-630-978-7033

~*~*~*~*~*~*~*~*~*~*~*~*~*~*~*~*~*~*~*~*~*~*~*~*~*~*~*~

Friday and Saturday, October 14 & 15, 2016
All Hallows Eve: A 19th Century Halloween at Naper Settlement

Prepare to be Scared!

Experience the Spirits of Halloween Past in this "Village of Fear."  Beware as you visit a Prison Dungeon, examine a Mummy's Tomb, and trek through the Underworld.

Time: 6:30pm-10:00pm

Price: $15 (Naper Settlement Members are Free!)
Place: Naper Settlement 523 S. Webster St.
Naperville, IL 60540

Parking: The Naper Settlement parking lot is located at Webster St. and Porter Ave. Additional parking is available at the Municipal Center parking garage at Webster St. and Aurora Ave.
Entrance: The entrance to the event will be through the Pre-Emption House Visitor Center at Webster St. and Aurora Ave.
Not recommended for kids under age 8
For More Info: Email or call 630.420.6010
Looking for Halloween Fun for Kids?
Please check out our Naperville Kids Halloween page if you're looking for some not-so-scary activities for your little ones.

Return to Home Page from Naperville Halloween