Naperville Halloween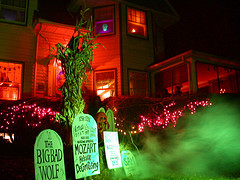 Are you looking for some fun this Halloween?  Check out some upcoming scary Naperville Halloween events around town!
Now until Saturday November 2nd
Massacre Haunted House - Odyssey Fun World

Halloween in Naperville is SCARY - visit the Massacre Haunted House @ Odyssey Fun World. One of the top 10 scariest attractions in the Midwest, the Massacre Haunted House and Fear Factory 3-D delivers over 15,000sq feet of thrills and chills.

Time: 7:00p.m.-11:00pm
Price:
$20.00 The Massacre Haunted House
$23.00 Massacre/Fear Factory
$35.00 VIP Both Haunts
Place: 3440 Odyssey Ct Naperville, IL 60563
For more info: Call (708)320-FEAR

~*~*~*~*~*~*~*~*~*~*~*~*~*~*~*~*~*~*~*~*~*~*~*~*~*~*~*~

Friday and Saturday, October 18 & 19, 2013
All Hallows Eve: A 19th Century Halloween at Naper Settlement

Prepare to be Scared!

Experience the Spirits of Halloween Past in this "Village of Fear."  Beware as you visit a Prison Dungeon, examine a Mummy's Tomb, and trek through the Underworld.

Time: 6:30pm-10:00pm

Price: $15

Place: Naper Settlement 523 S. Webster St.
Naperville, IL 60540

Parking: The Naper Settlement parking lot is located at Webster St. and Porter Ave. Additional parking is available at the Municipal Center parking garage at Webster St. and Aurora Ave.
Entrance: The entrance to the event will be through the Pre-Emption House Visitor Center at Webster St. and Aurora Ave.
Not recommended for kids under age 8
Looking for Halloween Fun for Kids?
Please check out our Naperville Kids Halloween page if you're looking for some not-so-scary activities for your little ones.

Return to Home Page from Naperville Halloween